A new device that relies on simple condensation to collect clean water from the atmosphere promises to provide up to 11 gallons of safe drinking water without an external power source, greenhouse gas emissions, or adverse environmental impacts. What's more, the innovative Water Seer collection device could potentially run forever, gifting generations of people with access to 'liquid gold' in areas of the world where a harsh climate or lack of infrastructure make access to clean drinking water a major problem. Water Seer is powered by a simple wind turbine, and the device could easily be the first step toward a sustainable, enduring solution to water shortages around the world.                    
https://player.vimeo.com/video/182748120
The Water Seer device is planted six or more feet into the ground, and soil is then packed around its metal neck. The top of the Water Seer holds a vertical wind turbine, which spins internal fan blades to draw air into the subterranean chamber. Because the underground chamber portion of the Water Seer is cooled by the surrounding earth, water condenses in the reservoir to creates sort of an artificial well, from which people can draw clean, safe drinking water around the clock.
Related: Innovative Water-Gen machine harvests up to 825 gallons of clean water from thin air in a day
The low-cost device was developed by VICI-Labs, in partnership with UC Berkeley and the National Peace Corps Association, as a possible solution for the 2.3 million people on the planet who lack regular access to safe drinking water. A single Water Seer device can collect up to 11 gallons of clean water every day with no external power supply required, and a collection of several devices can provide enough water to support a small village. The not-for-profit company will match US purchases of each unit by donating a Water Seer collection device to those in need living in developing countries or in arid climates.
Water Seer launched an Indiegogo campaign to raise $77,000 to build "orchards" of water collection devices around the world. The device has already been tested as a prototype, and the latest model was finalized in August 2016 and will undergo field tests with the National Peace Corps Association once the crowdfunding campaign closes.
WaterSeer™ condenses pure water from the air without power or
chemicals. It is green, sustainable, simple, low-maintenance, easily
deployed and scalable for any community. VICI-Labs worked with
UC Berkeley and the National Peace Corps Association to develop a
device that yields up to 37 liters of pure water a day!  A WaterSeer™
Orchard will provide enough clean water for an entire community.
Every 90 seconds a child dies due to lack of clean water. Over 2.2 billion people don't have access to safe water. WaterSeer™ will help alleviate this chronic and tragic burden by providing access to clean drinking water right where they live, by extracting water from the air. For every WaterSeer™ purchased, one will be sent to a family in a developing country, freeing time to build thriving communities, start businesses and improve lives, especially for women and girls.
WaterSeer™ will create water self-sufficiency, and will be a transformative force for good throughout the world.
It is hard to imagine a day without an abundance of clean, safe water. We drink our fill, shower and bathe daily, water our lawns, wash our clothes and dishes knowing that clean, safe water is an unquestioned condition of our lives.
Yet, throughout the world today, one in three people do not have the daily minimum, 7.1 cups of water needed to survive. Women and children spend up to 6 hours daily collecting and carrying polluted and diseased water for themselves and their families for drinking, bathing, and cooking. Worldwide, a child dies every 90 seconds for lack of clean drinking water, nearly 1000 a day. Daily nearly 10,000 people die from dehydration and waterborne disease.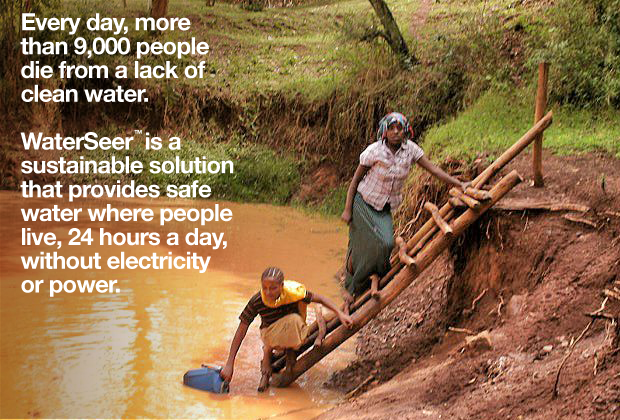 WaterSeer is working to help people get clean water right where they live. WaterSeer condenses pure water from the air without power or chemicals. It is green, sustainable, simple, low-maintenance, easily deployed and scalable for any community.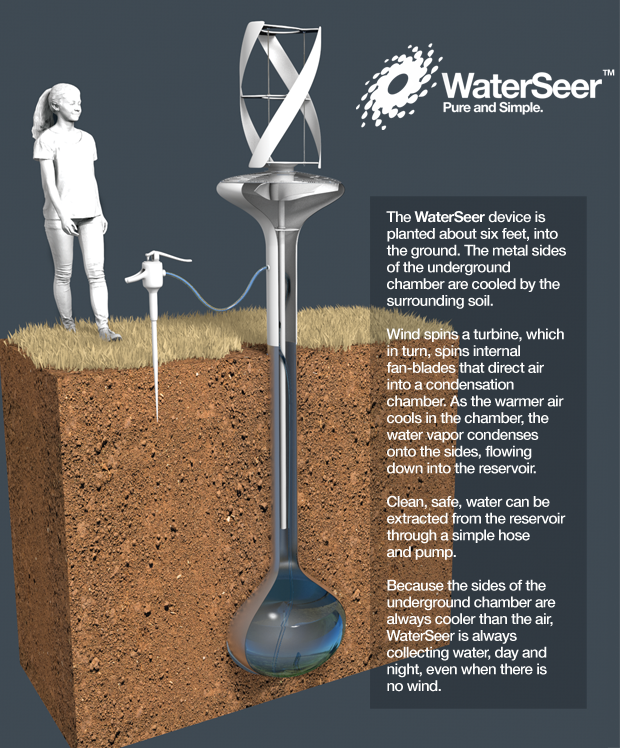 With UC Berkeley and the National Peace Corps Association, we worked to develop a device that yields up to 37 liters of pure water a day! WaterSeer field tests showed a ten-fold improvement over all other water collection designs. A WaterSeer Orchard will provide enough clean water for an entire community!
https://cdn.embedly.com/widgets/media.html?src=https%3A%2F%2Fplayer.vimeo.com%2Fvideo%2F164280141&url=https%3A%2F%2Fvimeo.com%2F164280141&image=https%3A%2F%2Fi.vimeocdn.com%2Fvideo%2F592504237_1280.jpg&key=64da7ba9305b45b68029ce9f0c7e4d75&type=text%2Fhtml&schema=vimeo
To make an immediate impact, our 'buy one give one' engagement model will send a WaterSeer to a family in a developing country for each one purchased. Our partnership with the National Peace Corps Association and other non-profits, ensures WaterSeer deploys where it is needed most. Through micro-finance and micro-consignment families will be able to start businesses; children will be able to go to school instead of spending their days collecting water.
Since we are a not-for-profit initiative, 100% of the funds are used to improve WaterSeer and send it to communities where it can make the most impact. 
Specifically, we will:
1. Improve WaterSeer design and expand field tests to multiple regions and climates.
2. Conduct pilots in communities worldwide.
3. Build a worldwide online community who will tell the WaterSeer story as it progresses.
4. Manufacture and distribute WaterSeer to the world.
We are asking for your help. Together we can change the lives of women and children in more ways than they can imagine today. Help us raise the funding to accelerate state-of-the-art water collection from the air. Join our community, help raise funds and awareness, and come with us on this incredible journey!
Every donation of $33 or more will receive a link to download a high-resolution digital JPG file for a poster that they can print at home.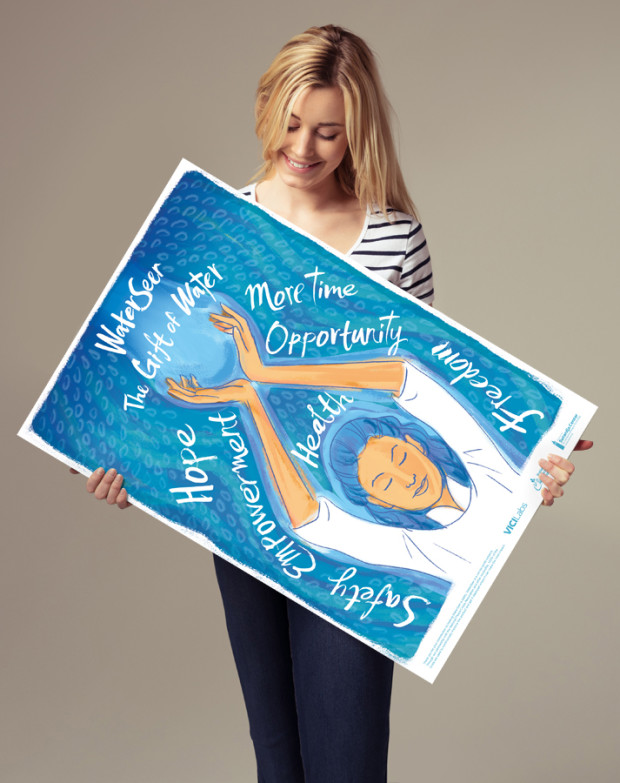 WaterSeer™ FAQs:
Q – Does WaterSeer exist, or are these just concepts? 
A –The original WaterSeer model was tested as a prototype at the UC Berkeley Gill Tract Farm in April 2016. Results were excellent; of the several variations tested, all exceeded water production goals. One model stood out above all others, generating up to 11 Gals from a nine-square-meter condensation surface! The current model was finalized in August of 2016 and will be field tested in coordination with the National Peace Corps Association once crowdfunding raise is complete. Your contributions will help us test and finalize the design so that we can move forward!
Q – When will WaterSeer be ready to ship?
A – Our current schedule is to test the new model prototype in the field over the next 6 months. We anticipate shipping the new model within the next year.
Q – How do you know that you will be able to get 11 gallons of water a day from one device?
A – We have run calculations based on the field test data that show that WaterSeer will generate as much as 11 gallons of pure water a day under the arid conditions in the San Francisco area.  Actual yield will vary based on environmental conditions; in Virginia, for example, the yield is much greater. What is unique about the new model is it uses the cooler ground reservoir to condense water 24 hours a day, which is 8 times the optimal condensation time as our first prototype. Since WaterSeer uses the difference in the ground and air temperature, which requires no power to achieve, WaterSeer effectiveness is not based on Relative Humidity, as with other, energy intensive, condensation devices. We never stop making improvements, and continuous process improvement is a core competency. Your contribution will help us achieve that goal!
Q – What if the air is polluted? Will the water also be polluted?
A – Great Question! The water that condenses from the air using WaterSeer is pure, distilled water without impurities. It is cleaner than rain water, which catches particulates as it falls to the ground. As pure, distilled water, it is cleaner than tap water without any additives, impurities, or chemicals of any kind.
Q – How will the device be cleaned? How will you keep debris and insects out of the water?
A – In the current design concept, we use a filter to keep debris and insects from falling into the device. The WaterSeer condensation chamber below ground is inserted in a sleeve so it is easily removable for inspection and cleaning. Field tests showed the water collected to be virtually free of particulates over a one week period, and cleaner than rain water in terms of pollutants and pathogens.
Q – Why haven't projects or devices like this succeeded in the past? What makes WaterSeer different?
A – Previous solutions based on condensation use a great deal of energy, usually in the form of diesel-powered compressors and evaporators. They are basically big air conditioners. Some use powerful and dangerous chemicals that can damage the immediate environment. They are also difficult to move, require high technical skills to operate, and expensive to operate and maintain. WaterSeer uses no power or chemicals of any kind. It is completely non-polluting and its simple construction is inexpensive and maintenance free.
Q – Why not simply dig a well to get water where people live?
A – Where people need water is rarely the best location for a well; in fact, most locations are completely unsuitable for ground water wells. In addition, good water is frequently including high mineral content, in some cases are very harmful levels. Well water purity is changeable, the maintenance is expensive, and sustaining a ground water well frequently requires specialized technical skills to operate and maintain. WaterSeer, by contrast, can be installed anywhere.
Q – If I give $134, or more, will I receive a WaterSeer device, once they are fully designed and manufactured?
A – Yes. Your contribution of $134 or more is a registered pre-order. You order will be filled following the first manufacturing run.
Q – You list the National Peace Corps Association as a partner. What role are they playing in this project?
A – The NPCA has been involved in the development of WaterSeer since the initial testing in April 2016 at UC Berkley, and they have agreed to coordinate field testing of WaterSeer in targeted emerging economies in the coming year. NPCA and VICI Labs have a formal agreement to promote NPCA member entrepreneurs and to facilitate the development of NPCA member innovations.