Islington council said club had failed to stop people buying and taking illegal drugs on its premises, after deaths of two teenagers in recent months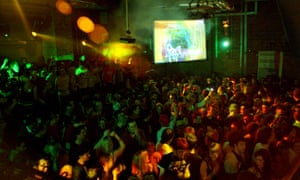 One of Britain's best known nightclubs, Fabric, has been forced to close permanently after its licence was revoked following the drug-related deaths of two people.
After deliberation that lasted into the early hours of Wednesday morning, the local council decided that searches by security staff at the London venue had been "inadequate and in breach of the licence".
It added that covert police operations suggested people were openly buying and taking illegal drugs on the premises and that staff should have been aware of it. "Staff intervention and security was grossly inadequate in light of the overwhelming evidence that it was abundantly obvious that patrons in the club were on drugs and manifesting symptoms showing that they were.
"This included sweating, glazed red eyes and staring into space, and people asking for help."
Leading figures who played at the venue, one of the most important for fans of electronic music, joined regulars in expressing their sorrow at the decision. AChange.org petition to halt the closure of the club had reached almost 150,000 signatures.
Jacob Husley, who initiated the petition and has worked at the club's Sunday night party for the past eight years, said of the decision: "We are in shock. I am feeling a mixture of disbelief and anger and sadness … It would be a devastating blow for London and culture, and clubs across the UK. It sets a precedent."
He did not know whether the club's owners would appeal but said he hoped "we are not finished with this".
Others wondered if the site now faced the same prospect as other legendary music venues such as Manchester's Haçienda – now luxury flats.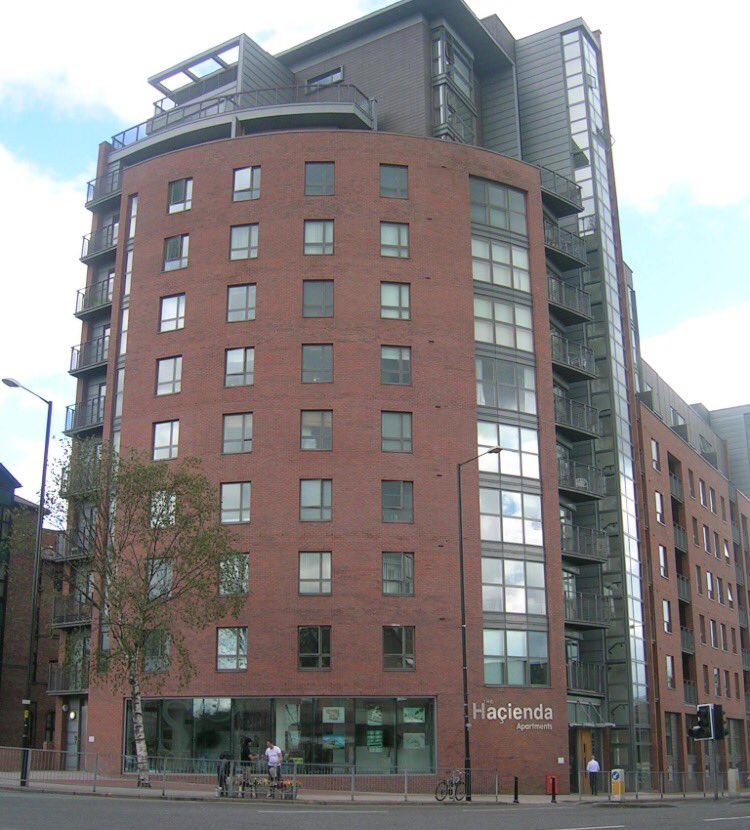 The chair of the Night Time Industries Association, Alan Miller, said he would start a grassroots fund to help save the club.
The Metropolitan police had asked the council to shut down the 2,500-capacity nightclub after the deaths of two teenagers in the space of nine weeks. One died after collapsing outside the club in August, while another died in late June.
In documents provided to the council, superintendent Stuart Ryan wrote: "If the premises is permitted to remain open and operating in its current form, then there is a strong possibility that further drug-related deaths will occur."
In the early hours of Wednesday morning, Scotland Yard confirmed that the decision had been taken to close Fabric, adding that police had "felt the need to act due to concerns about the safety of those attending the club due to the supply of class-A drugs in the venue and the recent deaths of two young men".
A spokesperson added: "We support this decision made by Islington council's licensing committee.
"London has a world renowned nighttime economy and people should be able to enjoy it safely, without concerns of serious crime. The Met is committed to working in partnership with those responsible for this sector to ensure that this happens."
Fabric had called the deaths of the two teenagers a tragedy and closed its doors temporarily to allow an investigation to take place. Prior to that, it had "operated without incident" for two years, it said.
"We've always had a fantastic relationship with police and particularly the council. Only eight months ago, a judge tested all our systems and said we're a beacon of best practice," the club's co-founder Cameron Leslie told the Guardian earlier this week.
"Eleven weeks ago another licensee, from a venue that had a death, was sent to visit us to see how we managed things. How can this suddenly have changed overnight in such a damning way?"
Fabric's campaign to stay open had been backed by the London mayor, Sadiq Khan, though he said it was not in his gift to intervene in licensing issues. Ahead of the ruling, Khan said: "London's iconic clubs are an essential part of our cultural landscape … My team have spoken to all involved in the current situation and I am urging them to find a common sense solution that ensures the club remains open while protecting the safety of those who want to enjoy London's clubbing scene."
The MP for Islington, Emily Thornberry, also wrote on Facebook that she believed Fabric should stay open.
"As a parent, my heart goes out to the family and friends of anyone who has lost loved ones at such a young age. But we must guard against the assumption that dangerous drug use would cease simply if we were to close a nightclub like Fabric."
Fabric did not respond to requests for comment.
Was this the real reason Fabric was shut down? 'Operation Lenor' and a cash-strapped council and police
Exclusive: New documents obtained through a Freedom Of Information request suggest Fabric closure was a long term plan orchestrated by a hard-up council, with the police as pawns and drug legislation as a constant, convenient excuse.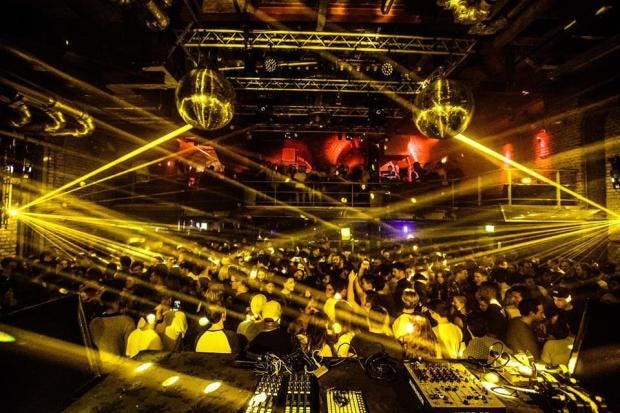 On a hot, drab night on Tuesday 7 September, London's iconic Fabric nightclub was permanently closed. The trigger for Fabric's suspension and subsequent closure was allegedly the deaths of two individuals as a result of drug taking on the premises on 25 June and 6 August.
However, documents obtained by The Independent via a Freedom of Information request show that Fabric's closure was a long pre-planned event, orchestrated by a cash-strapped council, using the police as pawns.
Islington Council's official statement regarding the closure lists 11 bullet points (below) justifying the decision. Two of these directly relate to the deaths of the two individuals. A further eight relate to an undercover police operation that took place in the venue in July 2016.
The undercover police operation found no hard evidence of drug taking inside the venue, relying instead on vague observations. These observations found their way into the council decision, including that individuals were "manifesting symptoms showing that they were (on drugs). This included sweating, glazed red eyes and staring into space," and also that "people in the smoking area enquiring about the purchase of drugs…I believe within earshot of the security officer".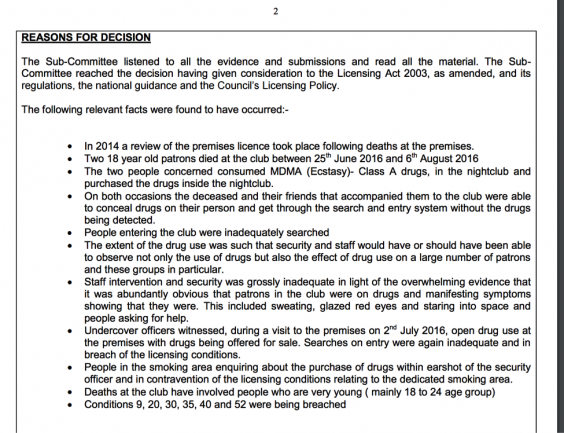 In fact, the original undercover police report itself also reported that "the general atmosphere of the club was friendly and non-threatening" and that "there was a diverse demographic in regards to race, [with people speaking] French, Italian and Chinese". These findings did not make it into the Islington statement.
Undercover police in nightclubs is nothing new, but targeting the venue itself, as opposed to dealers, is. The undercover police report that was used as evidence for Islington Council's decision was made all the more unusual by the fact it was named 'Operation Lenor', presumably after the supermarket fabric softener.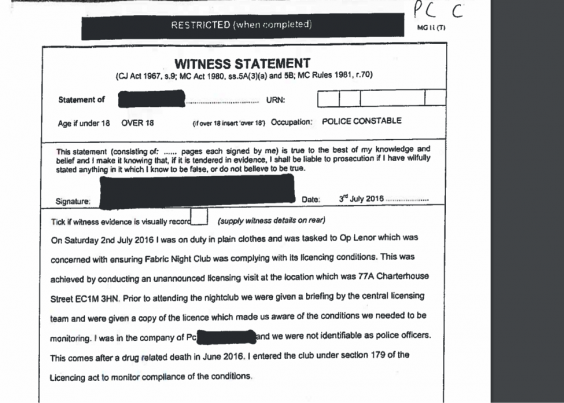 So why did the police feel the need to create such a perfunctory report?
The first bullet point of the Islington council decision contains not the recent drugs deaths, but instead mentions the 2014 review of Fabric's licence. This is significant.
The 2014 review took place following four drug deaths over three and a half years from individuals visiting the premises (of which only one was from drugs supplied inside the venue). The review ruled that sniffer dogs were to be placed outside the venue on rotating shifts for at least 50% of the night: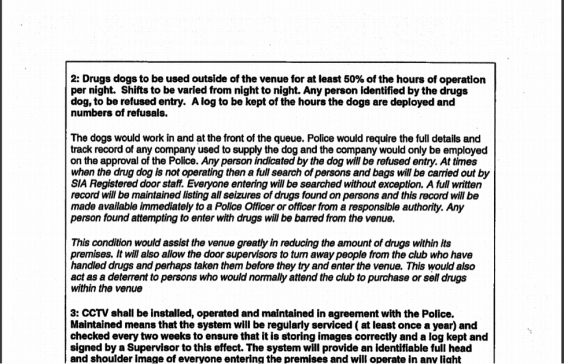 That, in itself, is an odd move. Even airports and military bases don't have dogs at the scanners for half of every working day. Moreover, the council and police dictated these dogs were to be from a private security firm, paid for by Fabric, but approved by the police. This was despite Paddy Whur, the club's solicitor during the 2014 review, pointing out: "The vast majority of private sector dog providers are not trained to the level that police dogs are. So it's been difficult finding one to meet the criteria police want."
Perhaps then, the dogs were meant to be more of a discouragement to would-be drug users than an actual drug-busting mechanism. At any rate, the plan backfired. On 11 December 2015, the terms of Fabric's operation – notably the use of sniffer dogs – were reversed. The report notes: "The Judge went further and found that the use of a drugs dog could undermine the licensing objectives in a number of unintended ways, including causing drugs to remain in circulation that would otherwise have been confiscated under Fabric's thorough search procedures."
Documents obtained by The Independent via an FOI request relating to the recent suspension of Fabric prior to its review revealed further clarity on the sniffer dog reversal.
Over the course of 918 pages of written letters requesting the club stay open, some 45 pages concern the use of sniffer dogs, noting their inefficiency at detecting drugs, but also frequent suggestions that "sniffer dogs force scared people into consuming all of their drugs before they enter the venue."
The decision was overturned. Why then did the police feel the need to create "Operation Lenor", despite the fact that that same police force had recently referred other London venues' management to Fabric as a bastion of good practice?
Government cuts
Islington council has lost half its funding since 2010. A spending review in 2015 confirmed cuts of £70 million over the next four years. In 2016 alone it stands to lose £17 million. The Islington police, who are partly funded by the council, face similar cuts: anything up to 44% of the staff numbers – or 252 officers.
A paradox exists. Fabric, and the secondary economy around it: the bars, restaurants and late night takeaways that operate in the area, all pay a substantial amount of tax. Likely more than, say, a replacement block of flats or a boutique hotel would. Then there's the fact that the nighttime economy in the area – including police, employs thousands of people. Why shut it down?
The government's austerity measures have created cost-cutting across the board. Councils, police forces and other public services are being shunted off as overheads, whilst all the time new building projects and corporate investment appear. Fabric may have made money locally, yet that money never made it's way back to the council and police in the area.
What's perhaps most saddening of all is the short-view public reaction of all this. A police force that simply can't afford to function as it wants to. A council laying off all its own, forced to shut down one if its borough's treasured icons via a hopelessly half-hearted police report from an officer who noted how much fun the club was, yet social media becomes awash with criticism of both the police and the council.
Follow the documents, and follow the money trail. Look what happened to Manchester's legendary Hacienda club, which is now 130 apartments. Fabric was always going to close, drugs deaths notwithstanding. It's not the police. It's not drug laws. It's likely a government that continues to roll back public services and institutions in an ever more calculating attempt to attract foreign money. And no amount of well-meaning drug law debate is going to change that.
—–
Upon request for comment on this article, the Met Police issued the following statement:
"Police felt the need to act due to concerns about the safety of those attending the club due to the supply of class A drugs in the venue and the recent deaths of two young men linked to the club.
"We support this decision made by Islington Council's licensing committee. 
"London has a world renowned night-time economy and people should be able to enjoy it safely, without concerns of serious crime. The Met is committed to working in partnership with those responsible for this sector to ensure that this happens."
An Islington Council spokesperson said:
"The decision of Islington Council's licensing committee on Fabric's licence was based solely on the evidence, submissions, and representations put before the committee. To suggest anything else is simply wrong. For the avoidance of doubt, Islington Council is not the owner of the building and has no financial interest in the site."
Islington Council has ruled against the London club.
London club fabric will remain closed after having its licence revoked by Islington Council.
Members of the council sat down yesterday evening (Tuesday, September 6th) at Islington Town Hall with representatives from fabric, Islington Public Health Authority, Islington License Authority and the Metropolitan Police. The hearing, which lasted more than six hours, reached its conclusion just after 1 AM on Wednesday morning when Subcommittee Chair Flora Williamson read out the ruling against the Farringdon venue.
"A culture of drugs exists at the club which the existing management and security appear incapable of controlling," she concluded. "This subcommittee has considered adding further conditions, but has come to the conclusion that this would not address the serious concern that they have with management of the premises."
About 40 people, including fabric staff members, watched on from the Town Hall's upstairs gallery as the committee heard depositions in favour of fabric from the club's co-founder Cameron Leslie, NTIA chairman Alan Miller, artist Kate Simko and Proud Galleries owner Alex Proud. Earlier, Metropolitan Police presented their evidence, during which they accused the club of being tolerant towards drug use.
fabric's licence was suspended and put up for review in August following the recent drug-related deaths of two 18-year-olds, Ryan Browne and Jack Crossley. The club has been closed since Friday, August 12th. In that time, the global dance music community has rallied around fabric, with a change.org petition garnering more than 140,000 signatures. Islington South and Finsbury MP Emily Thornberry also voiced her support, writing via Facebook that "the closure of fabric cannot be the answer."
Representatives from fabric have issued several statements of their own, promising to independently review the club's procedures with regards to safety and drug policy. Along similar lines, director and co-founder Cameron Leslie also pledged to pursue a "gold standard" for safe clubbing after the Met Police called the venue "a safe haven for the supply and consumption of illegal drugs."
London night life has been dealt a major blow with the Islington Council decision that Fabric must shut permanently following two drug-related deaths at the club earlier this year. But all hope is not lost. Rather than wallow in what this means for youth culture in the capital, April Clare Welsh suggests seven positive things you can do today to fight the decision.
Last night, one of the UK's most iconic clubs was forced to close its doors for good. After an epic six-hour hearing, which FACT saw through to the bitter end, Islington council made the ultimate decision to revoke Fabric's license following the drug-related deaths of two teenagers in June, stating in its review that searches by security staff at the London venue had been "inadequate and in breach of the licence".
The public gallery at Islington Town Hall was packed throughout the evening – a testament to the staggering level of support for the beloved dance institution. Everyone from Perc and Normski to members of the club's 250-strong workforce turned up in solidarity. People were noticeably on the edge of their seats as they heard statements from the police, as well as public health and licensing officials, all seeking to build up a case against Fabric. At one surreal point in the evening it was requested by one of these officials that, should the club retain its license, Fabric DJs must play music with "lower BPMs" in order to increase the "safety" of clubbers, as slower music by their logic does less to encourage ecstasy use. These are people controlling Fabric's fate. Maybe it was always doomed.
At the hearing, personal accounts were heard from a cross-section of supporters, including musician and Islington resident Kate Simko; a pensioner speaking on behalf of his son, a regular Fabric attendee; Night Time Industries Chairman Alan Miller, and Proud Galleries owner Alex Proud. Each speech differed slightly in its line of defence for the London venue. All of them, however, elicited the same response: a huge round of applause and/or standing ovation. Club co-owner Cameron Leslie gave a particularly powerful, personal speech that brought the house down.
It was clear from being in the room how treasured this space was to so many people. The phrases "gold standard" and "beacon of best practise" were continuously bandied about throughout the hearing. Leslie emphasised how good the club's relationship with the Met has been since the '90s.
Having grown up in London myself, I know that going to Fabric is a rite of passage for every young electronic music fan. I remember how I felt when I walked through the club. Something about its tunnels, nooks and crannies – which you could easily get lost in, just as much as the dancefloor – just screamed freedom. The impact of the club's closure goes beyond the need for entertainment or a night out for Londoners – Fabric was a democratising space where, for that one night or a few hours, everyone was on the same level. From its welcoming atmosphere to its zero-tolerance policy on sexual harassment, it was a place for unity.
Which makes it understandable that a lot of people are very angry that this has now been snatched away from them. Supporters of the club trailed out of the room at 1am this morning in deathly silence, before gathering at the stairs of Islington Town Hall to be united in their grief. Although emotions were high and some were spotted in tears, Alan Miller's inspiring, impromptu speech outside the Town Hall offered a beacon of hope. "This is not the end of the story. This is just the beginning," he declared, calling on people to make a stand. Fabric's closure may be a major blow to London nightlife and youth culture, but we all know it's better to do something than to wallow in the bleakness of the Met Police and Islington Council's decision – there's a good chance that it could go to appeal. So if you're as frustrated and concerned as us, do something about it. Here are seven things you can do to protest the closure.
1. Lobby Fabric's local MP, Emily Thornberry
Emily Thornberry, Islington South and Finsbury MP, is the borough's representative in the House of Commons. Thornberry has already lent her support to Fabric, defending the club as having "huge cultural significance to an entire generation." You can email her at emilythornberrymp [at] parliament.uk  or head to this site to access a letter template which can be sent to her directly. Amnesty International have published a guide on how best to approach lobbying your member of Parliament. One of their best bits of advice is whether you are sending an email, letter or letter accompanied by additional material, remember to keep it short.
2. Lobby Fabric's local councillors
Three councillors represent Clerkenwell on the Islington Borough Council – James Court, Raphael Andrews and Alice Donovan. You can write to them all directly by visiting this site.
3. Lobby London mayor Sadiq Khan
London Mayor Sadiq Khan issued a statement this morning, voicing his disappointment at the decision to close Fabric, pointing out that London has lost 50% of its nightclubs in the past eight years and insisting: "This decline must stop if London is to retain its status as a 24-hour city with a world-class nightlife." Email Khan at sadiqkhanmp [at] parliament.uk and tell him how important it is to preserve and the decline of the city's night time economy.
4. Sign and or donate to the Nightlife Matters campaign
Night Time Industries Chairman Alan Miller launched the Nightlife Matters campaign back in April, "a grassroots nationwide movement supported by record labels, agencies, promoters and the public" aiming to promote night culture, raise awareness about the threats against it and build a collective of supporters across the country. You can sign the petition here and by inputting your postcode – an email will then be sent to your local councillor, making them aware of how importance of these issues are to you and the local community. You can also donate funds to the campaign itself, which is currently undertaking a year-long mix of talks, exhibitions and club nights.
5. Donate to the Fund for Fabric
In addition to urging people to lobby their MPs and councillors, after last night's heading Alan Miller declared his intention to set up a "fighting fund" to continue with the Save Fabric campaign. Check Miller's Twitter for information on how you can contribute.
6. Join planned IRL demonstrations against the closure
Planet Mu signee Mr. Mitch has suggested people to bring their sound systems down to a protest rave outside Fabric today. With so many people feeling anger at the decision, a demo is inevitable. Keep an eye on the #SaveFabric hashtag and of course FACTmag.com for developments.
7. Support your other favourite clubs – they will be threatened next
London is still one of the world's best clubbing destinations, thriving with a wide range of nightspots. Corsica Studios, Club 414, Oval Space, Ministry of Sound, Phonox, Dalston Superstore, XOYO, Bussey Building, Bar A Bar, Bloc, just to name a few, all need your support now more than ever. Protect them best by simply paying them a visit and investing in everything they have to offer. In bleak, cynical 2016, any one of them could be under threat next.
April Clare Welsh is on Twitter
http://www.constructionenquirer.com/2016/09/01/museum-of-london-assembles-200m-smithfield-project-team/