Great cities are always impure, always impossible and their enemies are property developers as much as small minded terrorists
Cocooning, drawing loved ones close, was the first reaction to murder and terror. Staying in and getting a takeaway and texting everyone as we huddled over the horror. Did you do that? I did, until somehow life asserted itself again in its defiance. It was like finding a pulse again. "We must all go to Paris," I found myself thinking. It really is as beautiful as we want it to be. These people are as cool as they think they are and, of course, it wasn't just me thinking this; a hashtag emerged – #JeSuisEnTerrace. And my heart leapt. #JeSuisEnTerrace. Smoking. They didn't say smoking. They don't need to.
Being outside eating, drinking, talking not of units and chia seeds but of life itself is where I want to be. In a city that stays out late and is full of alleyways and dark snugs, and people who tell you about what really matters. This is the fantasy of the city and if you come from a small town, as I did, you never lose it or want to.
That is the thing about Islamic State, or Daesh – please, this is their name – they want to destroy all the things that make great cities great. Difference lives in the big city. Deviance flourishes. Difficulty produces both edge and wonder. There is something so terribly suburban about the ambition of these murderers and mercenaries. Their mission to kill pleasure will always be thwarted by those who flock to London or Paris or Berlin to pursue it. Great cities are always impure, always impossible, and this is why everyone who wants to reinvent themselves goes to the biggest metropolis they can. To see and be seen. Self-creation is an energy. It is the very opposite of destruction.
And this, too, is why we must fight for our old dirty town in ways that are not just about "fighting terror". Parts of London now are being systematically destroyed by property development. Am I equating property development with mass murder? No. But there is more than one way to kill certain ways of life.Gentrification is most often seen as a crisis of homelessness, of poverty, of pushing the undesirables out to the edge. It is that, of course. But it is also a concerted attempt to bring order to disordered places. It promises to replace danger with safety and that safety is always just another shopping mall. And flats. Retail cleansing.
This week I went to see Longing Lasts Longer, a show by Penny Arcade, the legendary New York performance artist. She spoke of many things, among them "gentrification of the mind". As I was in Soho, it certainly resonated. What is left of Soho must be saved, but is it too late? If you don't stand up for sleaze and gay bars and the old dives they will be themed up before you know it. This is not about nostalgia. It has happened.
Gentrification means the world is now one giant flat white. Or a private members' club full of "creatives". The freaks who used to trip around Soho and tell you in which particular basement you could find another necessary drink are an endangered species.
Still, though, London feasts on their legend as it flogs its wares, just as Paris still breathes the Gauloise kiss, the urban embrace. For here now is the conformity of the suburban soul that Ballard warned us would be the future if we did not understand it. The revenge of the suburban is an innate part of this gentrification. It's done to make our lives safer and easier. Thus Crossrail can destroy Paolozzi murals and knock down major music venues. We destroy our own history in the name of development.
Now that a developer (Derwent London) has bought the buildings around Hanway Street, many are worried about what they will do to this small warren of bars and jukeboxes and late night haunts, where you could share a Special Brew with an artiste of some unknowable kind, where there would be girls half your age and men twice it and you could stagger out into the dawn wondering what had happened to your makeup.
Maybe you didn't come to the city to find its hidden and dirty secrets – or your own. More fool you. Maybe you don't mind that so much of it is being pimped, that cranes are everywhere while people sleep in doorways. Maybe Soho is just a state of mind and few people care anymore, and I should just take up gardening or knitting and get with the programme.
But I can't, for everything I wanted to escape is closing in. This gentrification embodies a kind of puritanism that says nothing can be messy, dirty, undesigned. Because someone else owns it. This landgrab may not scare me as much as bombs, but scare me it does. What happened in Paris made me love Paris afresh, and then look at my own city anew. In truth, I won't be En Terrace; it's too cold. But to the left can you see that little black door? Knock on it and go up the stairs …
Brixton then and now: how much has gentrification changed the area?
The vibrant south London neighbourhood of Brixton has become a flashpoint for the gentrification debate. Martin Godwin reshoots old Guardian photographs to see the ways it has changed … and the ways it has not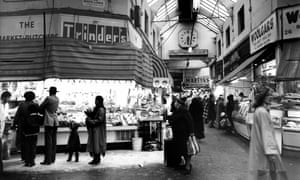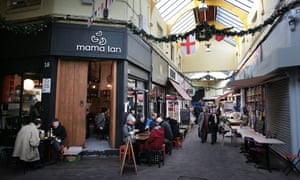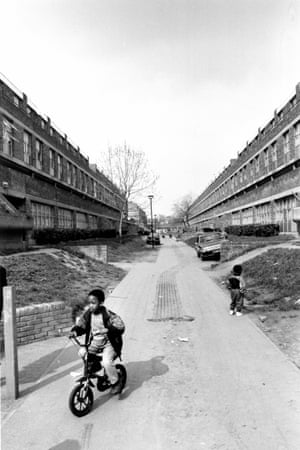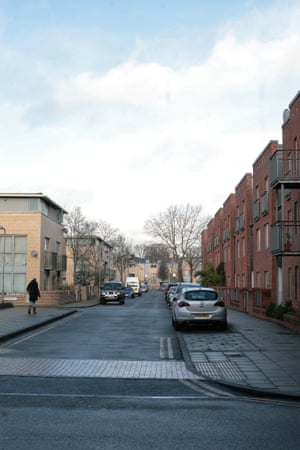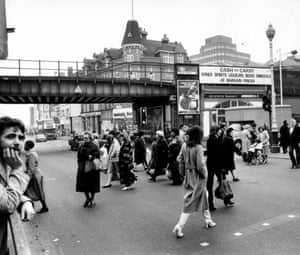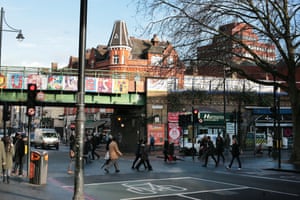 How has Brixton really changed? The data behind the story
Few areas of London have seen such drastic transformation as Brixton. But how exactly is gentrification affecting prices, diversity and local businesses? Sarah Marsh digs into the numbers and finds some surprising truths
Brixton's identity has changed enormously over time. In the 1920s it was south London's shopping capital. In the 1950s it became home to immigrants from the West Indies. In the 1980s it was made notorious by riots. But today it faces a very different challenge: it is becoming one of London's trendiest places to live. Some describe the area's renaissance as regeneration, others say it is simply gentrification, forcing poorer residents out. So who's right? And how has the area really changed?
Has it become unaffordable?
In short, yes, although this is the story across London. But Jimmy Carr, sales manager in Kinleigh Folkard & Hayward's Clapham and Brixton office, says that Brixton has seen some of the biggest growth in house prices in London, particularly in the past few years.
"There's been an influx of people who want to live in this area because it's seen as cool – it's the Shoreditch effect," he explains. "Some people are selling flats off at nearly double the price they bought it for four years ago."
There's been around 30% growth in Lambeth in the past few years, and he suspects that number would be a lot higher in parts of Brixton.
Renting is similarly costly, with the average rent for a one-bed house in the area about £1,744 per month. This is just below that of neighbouring Clapham where, according to Zoopla, it will cost you £1,789 per month – although this varies depending on the size of the property.
Over the past 10 years, according to Zoopla, property purchase prices in Brixton have risen by an average of 76%; to put this in perspective over the same period prices in Shoreditch rose by 62% and by 67% in Lewisham. As with many parts of London, the larger than average shift has made housing unaffordable for many in Brixton.
Has Brixton lost its diversity?
The most extreme voices against gentrification say it is tantamount to racial and social cleansing, but it's hard to know how much the ethnic mix of the area has changed in the past decade, simply because there's not enough data. The main information comes from the 2001 and 2011 censuses, which show a slight rise in the area's total "white British" population, bucking the trend of a London-wide fall, but a decline in the percentage of "white British" residents.
This doesn't mean that the area has kept its cultural diversity, however. What it could suggest is that most of these changes have happened in the past five years (which anecdotally seems to be the case).
A similar problem presents itself in terms of social change. Data from between 2001 and 2011 suggests no massive alterations in the socio-economic standing of residents. But since the last census the council has raised £55.65m by selling off its "short-life" housing stock across the borough. This has resulted in evictions, although the council says the majority were offered alternative council accommodation and most were rehoused within Lambeth.
Are local businesses being forced out?
Everyone has a story about a local business that's been forced out of the area. A common example is the recent closure of Kaff bar, which reportedly shut its doors after the landlord tripled the rent. What's more, 13,000 campaigners recently signed a petition against plans to redevelop the railway arches, with traders worrying that they have no guarantee about whether they will be able to move back in afterwards.
Another Brixton estate agent notes a rise in commercial rents. "A small retail unit measuring in the region of 500 sq ft can now be acquired in a good secondary location – such as Electric Avenue – for close to £20,000 per annum compared to £5,000-£7,500 some 10 years ago."
He adds that there is now a waiting list to occupy the trendy indoor Brixton Village sites, with some larger premises coming to the market for closer to £40,000 a year. Brixton Road is also incredibly sought after, with the high street awash with retailers ranging from Marks & Spencer to Brixton's own department store, Morleys.
But, although there has been a noticeable change on the streets, a recent Lambeth report on local businesses suggests it's not as bleak as it seems. Brixton has some of the most long-standing shops in Lambeth with 53% of businesses in the area having been trading for more than 10 years (this can be compared to 40% in Waterloo). What's more, 85% of businesses surveyed expected to be trading in Lambeth in three years time, with businesses in Brixton and Clapham the most confident.
This is a hopeful sign, and local campaigns show that people want to keep the area's small independent businesses alive. But with quite substantial rent rises – especially in areas like Brixton Village – work will need to be done to keep the make-up of the high street as diverse and fascinating as it currently is.
This is just a start. There are many more areas – such as health and crime statistics – to look into. If you have data, pictures or information that can help shed light on how Brixton is changing, please get in touch via sarah.marsh@theguardian.com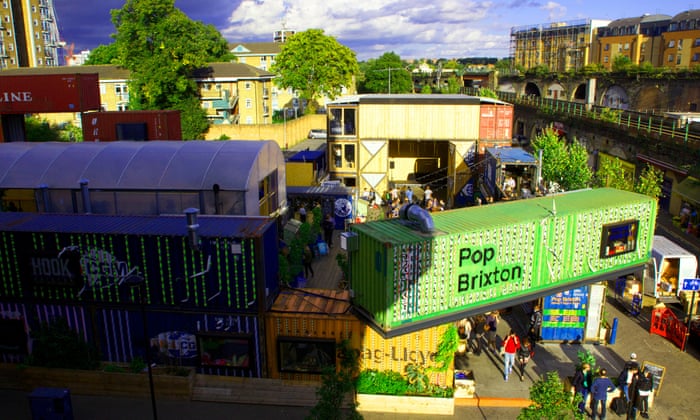 South Bronx: home of hip-hop fights to keep its soul as gentrification creeps in
As Netflix's new show The Get Down charts the borough's musical past, the area is becoming a hipster hotspot
In New York right now the talk is all about The Get Down. Baz Luhrmann's Netflix visual extravaganza charting the birth of hip-hop was the most eagerly awaited new show of the summer, a hugely expensive (it's reported to have cost $120m) and vividly conceived take on a time when a few blocks in the South Bronx were at the centre of a musical revolution.
Yet while the rest of the city gives in to nostalgia for New York's heyday as the dirty, dangerous creative capital of the world, in the South Bronx itself a less welcome revolution is under way. The area that was once shorthand for urban decline, a no-go zone of burned-out buildings, addiction and despair, is in the developers' crosshairs.
There's talk of gentrification, of rebranding the area as the Piano District, of big-budget projects and of how the South Bronx could become the new Williamsburg,a hotspot for bars, restaurants and hipsters, if those involved just play it the right way. Silvercup Studios, the production facility behind TV shows such as Girls andElementary, plans to open a new site in Port Morris, while real-estate firms Somerset Partners and the Chetrit Group hope to develop a luxury apartment complex, complete with boutique hotels, nightclubs and a waterfront esplanade set to open in 2020.
Meanwhile, Robert De Niro is reported to be bringing the latest version ofacclaimed Italian chef Massimo Bottura's Refettorio Ambrosiano project to the area. The initiative tackles food waste while feeding the homeless.
Not everyone is convinced by these grand plans. "We're fighting hyper-speculation where we see all this mass development coming into our community because the land is cheaper," says Mychal Johnson, who works for community group South Bronx Unite. "People are coming in and trying to build so many different types of buildings – almost 46% of all development in the Bronx is happening here in the South Bronx – which has the potential to displace those who have been here struggling through the hard times. If you can't live in the South Bronx, then where can you live?"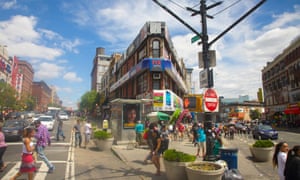 Walking around the crowded streets of Mott Haven, Melrose and Hunts Point with their car parts shops, small grocers and boarded-up buildings, talk of gentrification seems premature. This is an area with huge traffic congestion and air pollution dominated by the controversial Cross Bronx and Bruckner Expressways created by Robert Moses, America's greatest town planner, which continue to cause problems more than 40 years after they were completed.
Many living here struggle financially, and the schools are notoriously bad – a 2015 report in the New York Daily News branded them the city's worst, stating that 93% of South Bronx students were "economically disadvantaged … one in 10 students is homeless and the average attendance rate among the city's lowest". Asthma rates are among the highest in the US and life expectancy is in the mid-70s, the lowest of any neighbourhood in the city.
"There's been a lot of advancement in our community but the question remains for whom and at what cost?" says Johnson. "Are our schools better? Are we still unemployed? Are we better off environmentally than we were? Are any of the decisions being made going to change these scenarios?"
It's true that much of the gentrification talk in the area appears to be so much surface glitter. This weekend will see the South Bronx host the No Commission Art Fair, an invite-only art and music fair curated by hip-hop producer and South Bronx native Swizz Beatz. The event is sponsored by Bacardi, and has drawn criticism throughout the neighbourhood. Local blog Welcome 2 The Bronx has been particularly vociferous, although a recent post by writer Ed García Conte stated that he had met Beatz and "we agreed to collaborate on a future event that will be curated to include Bronx artists as the highlight".
The spectre of Brooklyn hangs heavy. Incomers to the city continue to flock to that borough's hip enclaves such as Greenpoint, Fort Greene and Red Hook, forcing prices up and long-term residents out. "When we were filming The Get Down we had a meeting with the Bronx borough president Ruben Diaz," says cultural critic and author Nelson George, who writes for the show. "He said to us everybody in the Bronx wants some of what Brooklyn's got but without that sort of social displacement. The question is how to bring in development without making the same sort of mistakes."
For Johnson the issue is that people look at the South Bronx and see not the people who live here but the potential for speculation. "There's no more land left in Manhattan and Harlem so suddenly this area is desirable," he says. "And that's all good and fine but when developers come in, real-estate taxes and rental values go up and owners think, 'Well, I can get $2,400 for a studio so why not?' What happens then to people of moderate, lower level and low income – where do they live?"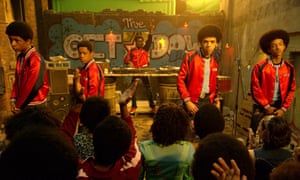 A recent report in the New York Times showed how rents have risen in the South Bronx, climbing by 28% in Mott Haven and Hunts Point and by 23.5% in Morrisania and Belmont in the period 1990-2014. The paper suggested the rise was driven by the arrival of "young, white, college-educated residents" and it's true that New York estate agents are making much of the fact that you can make it from Grand Central Station to the sweeping hilltop views of Grand Concourse in 20 minutes.
In rapidly developing Hunts Point, Majora Carter suggests there is a third way. The 49-year-old South Bronx native made her name with a series of regeneration projects – most notably the Hunts Point Riverside Park, which transformed an abandoned lot into a lush, tree-lined space – and has become something of a poster girl for the concept of self-gentrification.
"People who live in low-status communities like nice things too," says Carter, who now runs a consultancy firm, the Majora Carter Group. "I don't see anything romantic about poverty and I think trying to make people feel comfortable in that is a shameful thing to do. So our goal is always to figure ways and opportunities to make people think that there are other possibilities."
Carter's recent projects include a trendy, brick-walled coffee shop and Start Up Box: South Bronx, a not-for-profit tech incubator that aims to employ young people from the area. Next up, she says, is a restaurant. "It's all about giving people something beautiful to be in," she adds. "When I grew up in the South Bronx it was the area that politicians came to as a stop on their political campaign to make all these promises which they never delivered on and I wanted to make sure that anything I did wasn't like that."
Carter is regularly attacked on social media by those who believe she cares only about one part of the community – the young and upwardly mobile – and has been accused of selling out by working with outside investors and development firms.
"I think Majora looks at what's happening differently," says Johnson. "She's looking at how gentrification can help a community but I think that's dangerous because of how it displaces the community. If you create a business local residents can't afford, then your clientele comes from outside the community, so how does it help those who live here?"
Carter remains bullish. "If you call this gentrification, then it sounds like a really terrible thing where you're pushing people out deliberately and that's awful. But the thing is, gentrification happens the day you start telling the brightest kids in your community that to make something of yourself you have to leave or when you tell people the property they own isn't worth anything so they should just sell it on the cheap," she says. "The issue here is about money, the lack of it, the lack of being able to make it, keep it and circulate it throughout our community. We're going to take the model of gentrification and make it work for us – because if we keep giving people reasons to leave then they will."
• This article was amended on 15 August 2016 to correct the period in which rents rose in excess of 20% in Mott Haven and Hunts Point and Morrisania and Belmont. It was a 24-year period not a one-year period.
The Get Down is on Netflix from this weekend